Notice Regarding Contact Information
QUESTION: I understand there is a new notice requirement we have to give the membership involving contact information. Our year-end disclosures get longer every year. What is the purpose of this new requirement? Do we include it in our year-end budget package? What if we forget to include it?
ANSWER: Good questions all.
Rolodex. Before answering your question, I should let my Millennial readers know that the mysterious image above is a Rolodex–an energy saving device that works without electricity. It keeps contact information such as names, addresses, and telephone numbers on cards. This rotating file sits on your desk so you can quickly find information for making phone calls or writing letters. Unlike other devices, it doesn't argue when you talk to it.
Contact Information. The notice requirement you're referring to went into effect January 1 of this year. It requires members to provide contact information to their associations. (Civ. Code §4041.) This is particularly important when you have absentee owners. If an owner fails to provide the information, their HOA property address can be used for notices (even if the unit is empty or occupied by a renter).
Annual Notice. The statute requires associations to annually solicit the information at least 30 days prior to sending out their annual budget report. The problem for associations is remembering to timely distribute the notice before the annual budget goes out. Even though there is no penalty for not sending the notice, it could deprive the association of contact information when an absentee owner moves or takes a lengthy vacation, or when the association needs to lien the unit for unpaid assessments.
RECOMMENDATION: The best way for associations to avoid missing the notice deadline is to print the notice each month in the billing statement. It satisfies the statute and reminds everyone to update their contact information.
ANNUAL MEETINGS
VIA TELECONFERENCE
QUESTION: If teleconferences are not provided for in our governing documents, can we use it for our annual meetings?
ANSWER: Yes, even if your documents are silent you can hold both board and membership meetings by teleconference where everyone calls into the same phone number to join the meeting.
Board Meetings. Directors are allowed to attend meetings by telephone provided all directors can hear and talk to one another. (Corp. Code §7211(a)(6).) For executive session meetings by telephone, boards must still give two days' notice to the membership. Because it is executive session, members cannot attend.
For open meetings of the board, the Davis-Stirling Act requires that notice of meeting identify at least one physical location where owners can attend. (Civ. Code §4090(b).) That means a conference phone must be at that location so members in the room can hear directors conduct the meeting. It must also give them the opportunity to be heard by the board during open forum.
Membership Meetings. Everything described above also applies to membership meetings. Small associations with members out of town or with absentee owners may find it convenient to hold their annual meeting via a conference call. The call-in number can be published so members can call into the meeting. Large associations may find it unwieldy to hold their annual meeting via a conference call-in number.
RECOMMENDATION: Invest in quality equipment at the meeting's physical location. Putting a cell phone on speaker is not the best way to meet the statute's requirements. I've attended meetings where that was done and it's almost impossible for everyone to hear the conversation. A good conference phone is not very expensive and can be ordered online from Amazon.com. If you squeeze your budget hard enough, you can find the money to buy one.
As one of my readers noted, "Thanks for your newsletters. They are almost always interesting and usually accurate." Here are some  feedback questions and responses that should be interesting and sometimes accurate.
Out of Town Director #1. You responded to a Canadian director about using a telephone device that all could hear and respond to satisfy the CA statute. I am a NY lawyer and part-time Palm Desert resident who serves as the president of our HOA board. A good phone connection will work but I strongly suggest Skype or Go To Meeting or some similar method. The visual element means greater involvement in the meeting which is to the benefit of all. Thanks again for your weekly report. -Jim L.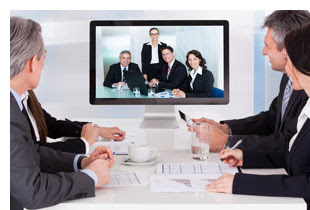 RESPONSE: I thoroughly agree. Board meetings where everyone can see each other are better than using telephones only. We use Business Skype for our monthly staff and partner meetings. With offices around the state and 30+ attorneys and staff, our meetings are much more effective when everyone can see and hear each other.
Out of Town Director #2. In our association, a prior president convinced directors that all board members had to be present in person for meetings and would not allow any telephonic participation. After he was removed, we have for the past four years successfully held all our meetings telephonically. We twice tried to amend our bylaws to require meetings to be held telephonically if the circumstances permit, but could not get enough votes. -Vince M.
RESPONSE: You don't need to amend your bylaws to require telephonic meetings. It would be unreasonable for fellow directors to refuse a phone call from an absent director, thereby preventing him/her from attending the meeting. I believe a judge would find the authorizing language in the Corporations Code to be sufficient to require telephonic participation if a director asked for it.
*****
Financial Health. Boards have a responsibility to be aware of the association's financial health (or lack of it). I'm a retired banker who served on a board that had not raised dues for many years because they did not want to upset people. I took some flack when we raised dues by $25.00 just to keep pace with rising costs. When I explained the dues had to keep pace with increasing costs, it calmed most people down but not everyone. When other board members grumbled, I reminded them they are not on the board to make people happy. -John A.
*****
My article on phantom smells generated more feedback than I can print. Following is a sampling:
Phantom #1. As a manager I have also dealt with smell issues and used a company to locate the smell. Turns out one of our residents had a cracked sewer line in his guest bathroom which is why the smell was there sometimes and not others. When someone experiences an odor and you can smell it too, there is a good chance it can be fixed. -Bill B.
Phantom #2. Another reason for phantom smells could be the under-laying wall coverings within the unit. Someone who owned the unit previously could have smoked and proper preparation to the wall before adding the new wall decor could result in the phantom smells coming through in areas where preparation was not the best. If there is a common air duct, maybe the ducts need to be cleaned. -Kelly M.
Phantom #3. I had a job for a major electrical company where I would investigate noise complaints from our customers. Typically, once a year we would respond to a complaint from an elderly woman, over 60 years of age. We would bring very sensitive noise measuring equipment and recorders. We were generally told that the noise sounded like the humming from a transformer. The location of the noise was invariably always in the quietest room of the home during the quietest hours of the day, evening and night time. My technician and I never heard the noises ourselves. At the end of the investigations after recording no noise on our equipment, we would tactfully suggest that the customer visit a ear, nose, and throat specialist for assessment if the customer had tinnitus, commonly known as ringing of the ear. Seldom were we called back for further assessment. Tinnitus is a very nasty ailment and their is no escaping it. The quieter the environment, the louder the noise is perceived. There are advertised solutions but I am not aware of one that works. The only real solution is to learn to live with the noise. -Sam A.
Phantom #4. Many years ago, when I was in law enforcement, we had an elderly member of our community who frequently reported a handsome young man who she sometimes found in her living room playing her piano and making obscene gestures toward her. No amount of investigation produced a shred of evidence to support her claim. -George H.
Phantom #5. What if the smoke comes into your unit through your open windows or patio door? -Derek W.
RESPONSE: If it's coming from a smoker in another unit, that would not be a phantom smell. It's quite real. If it's occasional and slight, the board might not classify it as a nuisance smell. If it's persistent and strong, the person below could be required to contain the smoke to their unit. To eliminate the problem, many associations have already amended their CC&Rs to prohibit smoking anywhere in the development (including inside units).
Reprinted from
Davis-Stirling.com by Adams Kessler PLC